Specialist therapy for adolescent concerns and challenges
Adolescence is a difficult time for many young people. It is a transitional stage from around 13 to 19 (sometimes starting as young as 9). There are very real physical and psychological changes that are taking place inside their emotions, hormone system, body and brain.
This creates hormone fluctuations, over whelming feelings, a sense of wanting independence yet needing the security of home. Often this can create directly opposing needs at the same time, which can feel confusing for the teen and those around them.
This time of transition raises questions of identity; a time to cultivate their sense of self away from the family. They may face difficult choices about schooling, friendships, sexuality, gender identity, drugs and alcohol – being torn between 'ideals of behaving' taught by their family versus the need to be part of the crowd. It can be a confusing and scary time, with many opposing emotions.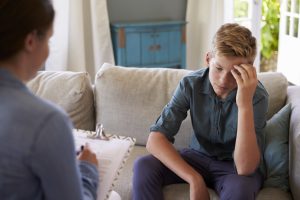 It is very normal for teenagers to hold an egocentric perspective on life; in some ways this is a normal transitional 'selfishness'  and this state of mind recedes in time. However as a result their intense self-focus may create a sense of being judged by others, believing that everyone is focused on them too. This can create insecurities and instability in friendships. Family relationships can also take a backseat to peers; which can feel hurtful to caregivers when a young person withdraws from family life.
Mild anxiety and friendship challenges are normal around this time. However serious mental health conditions also emerge during adolescence. Addressing problems early on can help ensure the best possible outcome for your teen.
It is important that any therapist working with teens has an understanding and training of this significant psychological developmental phase. It takes particular skills as a therapist to navigate the teens vulnerable need for support and approval with the strong need for independence and to "do this alone".
Our practice specialises in the specific issues teens struggle with; providing psychological tools, knowldge and emotional support for problems from mild to severe.
This could include mild struggles such as friendship difficulties, coping with exam stress, family breakdown, anxiety, resilience, assertiveness, adjustment, low mood, phobias, depression, low self esteem, specific trauma and many more areas. We employ a practical solution 'here and now' approach using approaches such as Cognitive Behavioural Therapy, Compassion Focused Therapy, EMDR or Narrative Therapy.